No Dog Deserves To Feel Frightened Or Left Behind!
With our Dog Carrier Backpack, you no longer have to worry about leaving your furry friend at home… all alone. Did you know over 5 million dogs in US alone suffer from dog separation anxiety?
Designed with both style and comfort in mind, our functional dog carrier backpack is the ultimate way to spend time with your dog. Stay active and do all your activities with your dog like gong hiking, walking, cycling, or simply hanging out.
Our fur babies, buddies, best friends doesn't deserve to feel left behind.  The PawTravel Dog Backpack is designed for maximum comfort. It holds your dog in a relaxing upright position with his front paws in the bag.
Drawstring & Pocket Design
Two side pockets can store snacks and toys, and adjust them to the most suitable position. The cross-body strap minimizes all unstable movements and makes your pet feel comfortable even when you are on the go. The drawstring design is adjustable according to the pet's head size, gives them a comfortable breathing space.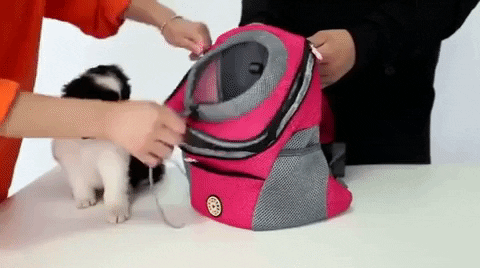 The PawTravel Dog Backpack is made of high quality materials. Both sides has a pocket to store toys, treats and water for them.
Secure, Safe & Breathable
The buckle design inside the carrier can connect with the pet's collar which will prevent pets get out, and protect the pet's safety. Adjustable shoulder straps and the backside with padding can reduce the burden, ease your shoulder's pressure, easy to carry.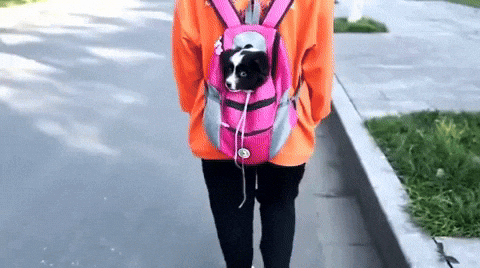 It is designed with a thick bottom pad to fully secure your dog with enough space for them to move around inside. The fabric is breathing to keep them cool and cozy.
Features
Fully Adjustable
It's equipped with cooling panels on the sides and adjustable pockets. The straps are moisture-repelling and air-permeable. The PawTravel Dog Carrier Backpack comes in sizes extra small to large as five different colors. It can carry dogs up to 40 lbs.